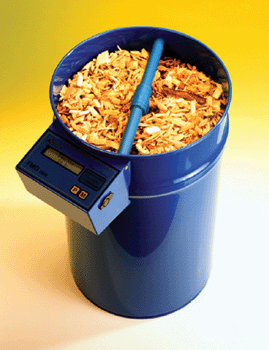 The moisture-meter FMG-3000 is designed to quickly determine the percentage of the moist content in wood chips. The moisture determines the heat value of the fuel and thus the price to which wood chips is accounted for. A moist content of about 40% in the wood chips halves the heat value.
Conventional methods for the determination of the moisture are very time consuming. With FMG-3000 the moisture content in wood chips can be determined in a simple and quick way.
Great importance was put on the user-friendliness handling. By simple keystroke, the percentage of the water content can be accurately read off on an LCD-display within seconds.
The robust construction has been designed for heavy-duty use, for example in heating plants.